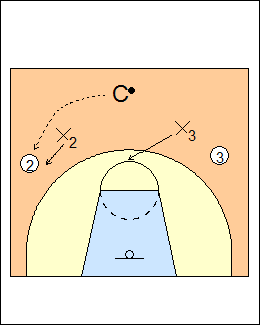 1
Bob Huggins

X2 and X3 are denying direct passes to 2 and 3 (on a backcut, snap your head). Make them throw over, under or around you, never through you. Try to steal all bounce and lob passes.

On a lob or bounce pass to 2, X3 turns and sprints to a closed help position on the midline directly between 2 and 3 (don't slide). He is in a closed stance, ready to contest a flash to the middle by 3 (push him out top, preferably ballside). X2 closes out with high hands, forcing baseline without allowing a drive to the basket. Both defenders jump to the ball.

Continue with a pass back to coach, pass to 3, etc.

Tubby Smith - Defenders initially overplay, then let the ball be entered. On a close-out, trace the ball (ball-up, ball down), take a step back when the ball goes down. Attackers can drive baseline or middle, kick.