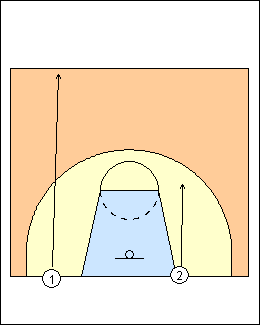 1
Pete McLean

Quickness is a priority in basketball, not top speed. Drive your arms, drive your knees to 90 degrees. Stop in two steps (1-2).

a) Stand tall fall - standing up, get high on your toes, tip your body forward, land in a fall (sprint) position, one foot moves forward to land, the ankle, knee, hip and shoulder are in a straight line. Then take one stride after falling (stand tall fall stride).

b) From the baseline, sprint to the foul line, slow down to halfcourt.
Lee Taft - first-step acceleration - sprint baseline to the top of circle, gradually slow down and walk to the other end, 8 reps total.

c) Sprint out, 1-2 stop in a low ready position.