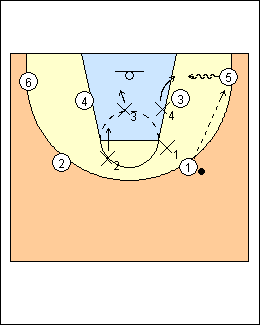 1

4 on 4 plus an attacker in each corner (O5 and O6) who drive baseline if they get the ball. Defenders must rotate to help on the drive.

Options

- attack a zone defence 7 on 5, with the extra attackers positioned at vulnerable positions in the zone
- attack 5 on 3 against a triangle zone defence
- O5 and O6 can shoot or drive, 4 on 4 up and back on a score or stop (That's a Foul, March 2004).