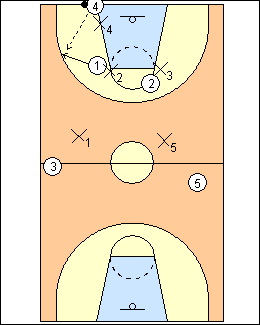 1
Billy Tubbs

100Z is a fullcourt zone press. See 100M (fullcourt man) for basic rules of fullcourt pressure.

X4 always takes the ball, shading to the middle. X2 and X3 take the elbows, look for someone in their area, play the same as 100M. If 1 and 2 go to the short corner, X2 has them both.

X1 and X5 are key. X5 is the designated safety, the best shot blocker and rebounder. X1 has anybody ballside at halfcourt, is always responsible for a pass up the sideline. If 4 runs the baseline, X1 runs with him, X5 switches sides in this case (with two attackers at halfcourt).

At this point the rules are the same as 100M.