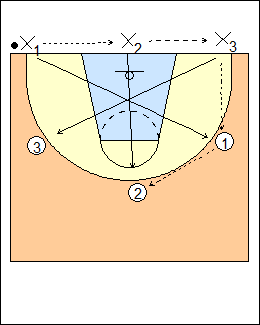 1
That's a Foul, Feb. 2004

Passing X1 to X2 to X3 to 1 to 2, defenders close out on their checks after passing, go 3 on 3.

coachesclipboard.ca - play is live on the pass to 1, he does not have to pass to 2.

Ian MacKinnon - live on a pass to 3, progressions
- live on a pass to 1
- change directions (the ball starts with X3).

Chris Oliver - reverse the ball to 3 then it's live.