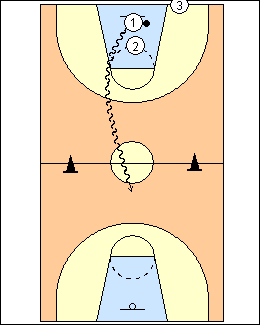 1

American Basketball Quarterly, 2005Q4
Three players. Attacker 1 with a ball and defender 2 face each other under the basket. 2 touches the ball, then 1 has five seconds to dribble across midcourt. 1 gets 2 points for dribbling across the centre circle, 1 point outside the circle but between the cones (or volleyball court lines), and 0 points outside the cones. 2 gets one point if 1 is unable to cross midcourt in 5 seconds.

(Variations)

- one point for crossing halfcourt anywhere
- 8 seconds to cross
- players start from both ends.